Where is Newbury Park located?

Newbury Park is located in the London Borough of Redbridge in the eastern part of Greater London, United Kingdom. It is situated approximately 15 miles (24 kilometres) northeast of central London. Newbury Park is part of the Ilford postal district (IG2) and is close to other areas like Ilford, Gants Hill, and Seven Kings.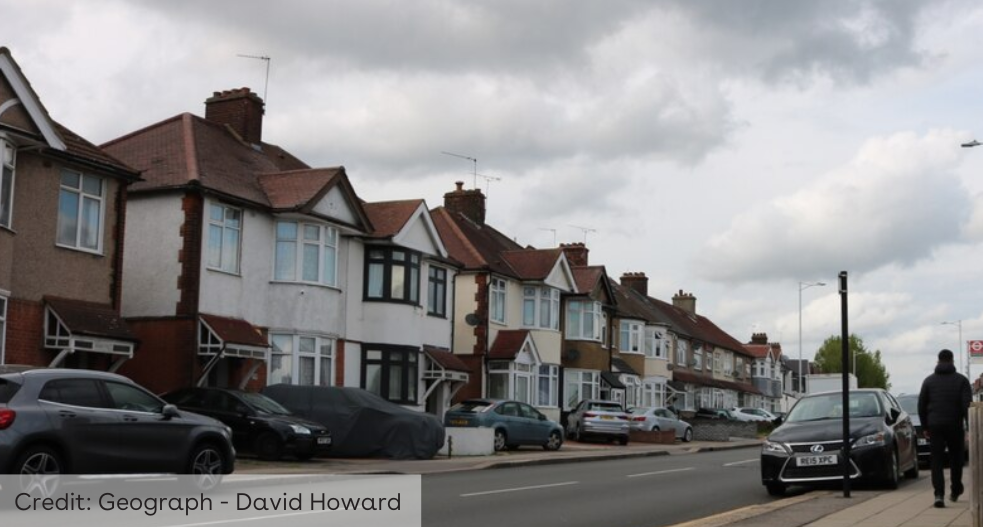 Looking for a property? You can trust our Newbury Park estate and letting agents to handle your property-related requirements, whether it's buying, selling, renting, or letting. With over 30 years of experience in the local area, our Newbury Park Letting Agents can handle everything from finding ideal tenants to managing your property with ease.
Newbury Park History?

The name Newbury dates back to 1348, and this area, along with the rest of Ilford, belonged to Essex until 1965 when it became part of Greater London.
The station's history is noteworthy, having been originally opened by the Great Eastern Railway in 1903 on the Fairlop Loop. In 1947, it was transferred to the London Underground and underwent partial reconstruction. However, the planned full-scale redevelopment has remained on hold to this day. Steam services heading southwark to Ilford railway station ceased during this transition, and the tracks were removed by 1956. Today, the Central Line tube services tunnel underground and takes a sharp westward turn towards Gants Hill, Leytonstone, and central London.
What is living in Newbury Park like?

Newbury Park is a mostly residential neighbourhood. It caters well to the needs of its locals, offering many local shops, bars, and restaurants and unparalleled outdoor activities for all ages and preferences. Newbury Park is in the vicinity of several parks and recreation grounds.
Schools
Newbury Park has a high number of nearby schools, so there is plenty of choice although there may also be a lot of competition for spaces too. There is a mix of both primary and secondary schools nearby.
Adventures Day Nursery | 1 Spearpoint Gardens, Aldborough Road North, Aldborough Rd N, Newbury Park, Ilford IG2 7SX, United Kingdom | 020 8599 8644 | https://www.adventuresdaynursery.co.uk/
Adventures Day Nursery is a standout choice for parents seeking top-notch childcare services. The experienced staff and engaging activities at this nursery receive high praise from satisfied parents. A nurturing haven for your child at Adventures Day Nursery.
Oaks Park Secondary School | 45-65 Oaks Lane, Newbury Park, Ilford, Essex, IG2 7PQ | 020 8590 2245 | http://oakspark.co.uk/
Oaks Park High School, Ilford is a place where academic brilliance meets a strong sense of community. Delve into the school's ethos of fostering not just scholars, but compassionate individuals. Discover their dedication to a nurturing environment that enables students to thrive. Unveil the unique narrative of Oaks Park High School and its significant impact on the academic and personal growth of the students it educates.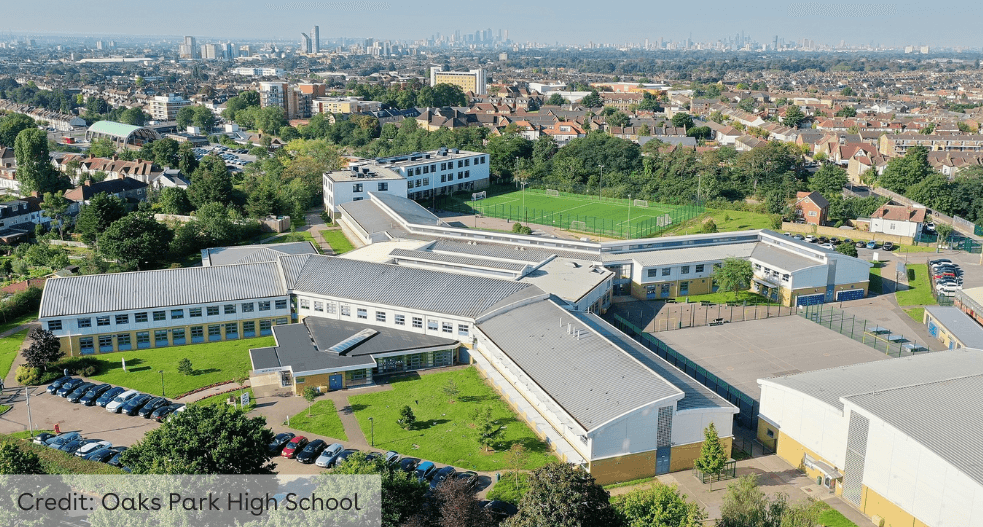 William Torbitt Primary School | Eastern Avenue, Newbury Park, Ilford, Essex, IG2 7SS | 020 8599 1209 | https://www.williamtorbitt.redbridge.sch.uk/
William Torbitt Primary School, an educational cornerstone within the community, is dedicated to nurturing children's learning and growth. The school holds both students and staff to lofty standards, continuously striving for excellence. Despite being a large primary school, the institution has fostered a close-knit, family-like atmosphere, ensuring each child feels valued, safe, and eager to progress. Recognizing the crucial role of parents as partners in education, the school celebrates the rich diversity of its students and promotes unity and respect among them.
Restaurants:
Embark on a culinary adventure through Newbury Park's finest dining spots. From diverse menus to inviting ambiences, these eateries leave taste buds delighted. Experience exceptional flavours and warm hospitality, making each dining experience a memorable one. Explore and indulge in the delights these restaurants have to offer.
Flame Restaurant | 770-776 Eastern Ave, Newbury Park, Ilford IG2 7HY, United Kingdom | +44 7516 115666 | https://bengalvillagebricklane.co.uk/ 

Flame Restaurant in Newbury Park embodies culinary mastery, delighting patrons with a diverse menu and inviting ambience. Reviews sing praises of the flavours and friendly service, establishing it as a go-to spot for a satisfying dining experience that leaves taste buds craving more.
Miller & Carter Newbury Park | Aldborough Rd N, Ilford IG2 7TD, United Kingdom | 020 8590 1281 | https://www.millerandcarter.co.uk/#/

Miller & Carter in Newbury Park is a steak lover's paradise. Boasting an impressive menu and impeccable service, it has gained a reputation for delivering an unforgettable dining journey. Reviews often mention the exceptional quality of the steaks and the inviting, elegant atmosphere.
Mirage | 738 Eastern Ave, Newbury Park, Ilford IG2 7HU, United Kingdom | 020 8518 6620 | https://www.miragerestaurant-ilford.com/
Mirage in Ilford is a dining destination that leaves a lasting impression. From its enticing dishes to its warm hospitality, this restaurant has won the hearts of many. Reviews frequently highlight the delicious flavours and the cosy yet vibrant setting, making it a cherished spot.
Vijay's Virasat Restaurant Vijay's Virasat Restaurant | Greengate Parade, Horns Rd, Newbury Park, Ilford IG2 6BE, United Kingdom | 020 8554 4662 | https://vijaysvirasat.com/
Vijay's Virasat Restaurant in Newbury Park offers an authentic Indian dining experience that's hard to beat. Patrons rave about the rich flavors and diverse menu, making it a top choice for those seeking a taste of India in an inviting setting.
Kibbeling Kibbeling | 17, Grays Corner, Ley St, Newbury Park, Ilford IG2 7RQ, United Kingdom | 020 8554 1041 | https://kibbelinguk.com/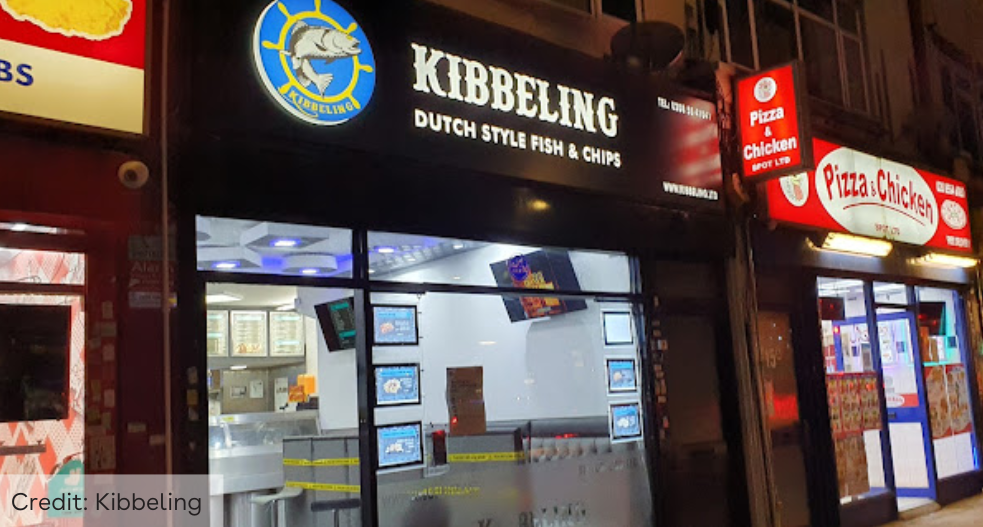 Kibbeling in Newbury Park stands out for its delightful offerings and welcoming ambience. Reviews often mention the superb taste and quality, portraying it as a must-visit for those craving a taste of excellence in every bite.
Shops:
Discover a world of convenience and variety in the heart of Newbury Park. From top-quality groceries to DIY essentials, find all you need within reach. Experience shopping made easy, and tailored to your preferences. Explore the diverse array of products and elevate your shopping experience today.
ALDI | 8 Horns Rd, Newbury Park, Ilford IG2 6BE, United Kingdom | 080 0042 0800 | https://stores.aldi.co.uk/
ALDI, a budget-conscious shopper's paradise, offers a wide array of quality products. From fresh produce to household essentials, ALDI ensures that you can fill your cart without emptying your wallet. Discover an assortment that caters to your needs, all while keeping a focus on value and excellence. Shopping at ALDI is a smart choice for savvy consumers seeking high-quality goods at affordable prices.
Nisa Local | 134 Horns Rd, Newbury Park, Ilford IG6 1BE, United Kingdom | 020 8554 4350 | http://www.nisalocally.co.uk/
Nisa Local stands as a reliable neighbourhood convenience store, providing a diverse range of everyday items. Whether you're in need of last-minute groceries or a quick snack, Nisa Local is there to cater to your needs. It's a one-stop destination that emphasizes accessibility and variety, making daily errands a breeze. Experience the ease of shopping in your community at Nisa Local.
Crown Decorating Centre | 750-756 Eastern Ave, Newbury Park, Ilford IG2 7HU, United Kingdom | 020 3319 3584 | https://www.crowndecoratingcentres.co.uk/
Crown Decorating Centre is your go-to destination for all things related to paint and decor. With an extensive selection and expert advice, it's a haven for DIY enthusiasts and professionals alike. Transform your living spaces with confidence, knowing that Crown Decorating Centre offers the products and expertise to help you achieve the look you desire.
B&M Store | 4 King George Ave, Newbury Park, Ilford IG2 7SH, United Kingdom | 033 0838 9729 | https://www.bmstores.co.uk/stores/ilford-newbury-park-729
B&M Store in Newbury Park is a shopping hub for those seeking both value and variety. From household essentials to toys and more, B&M Store has something for everyone. Experience a shopping spree that doesn't break the bank while still providing a satisfying array of choices. Discover affordable options and indulge in a shopping experience that caters to your budget and preferences.
M&S Simply Food M&S Simply Food | 709 Eastern Ave, Newbury Park, Ilford IG2 7RH, United Kingdom | 020 8709 6159 | https://www.marksandspencer.com/
M&S Simply Food in Newbury Park elevates your shopping for food essentials. With a focus on top-quality, fresh produce and delectable prepared meals, M&S Simply Food brings a new standard to grocery shopping. Browse through a range of tempting options, knowing that each product has been curated to meet the high standards that M&S Simply Food is renowned for. Enjoy a delightful food shopping experience here.
Parks to visit in Newbury Park

Discover the hidden gems of Newbury Park, UK, through its picturesque parks and charming streets. From tranquil lakeside strolls to exploring vibrant communities, here are some local treasures waiting to be explored in this lovely neighbourhood.
Valentines Park
Discover the peaceful allure of Valentine's Park in Ilford. Nestled at Cranbrook Rd, IG2 6EA, it beckons with lush gardens and a historic lake graced by a charming boathouse.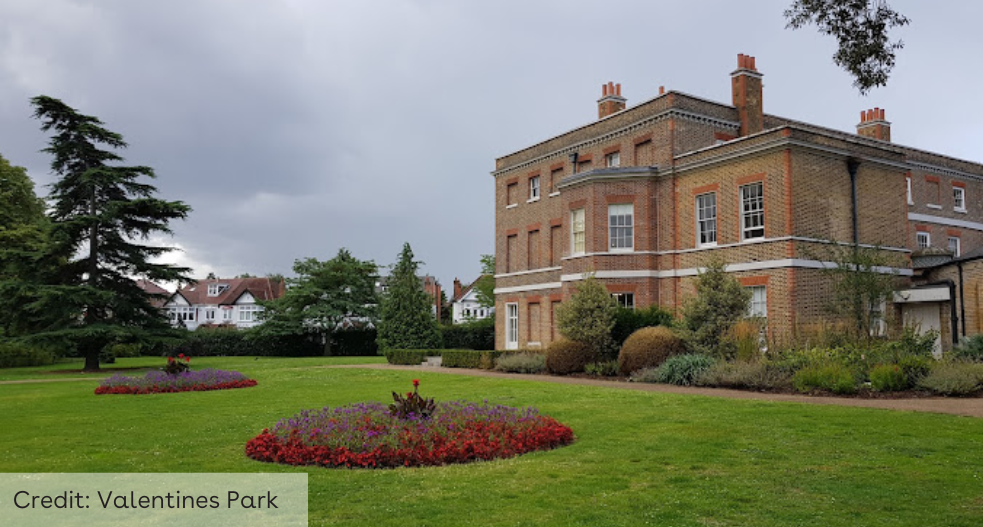 The park's tranquil ambience makes it an ideal setting for a serene afternoon amidst nature's beauty. Whether it's a leisurely stroll or a moment of reflection by the lake, Valentine's Park offers a wonderful escape, seamlessly blending history and natural splendour.
Newbury Park Field
Nature enthusiasts will find solace at Newbury Park Field, located at 92 Perrymans Farm Rd, IG2 7NN in Ilford. A beloved local spot, it provides a green expanse for outdoor relaxation and recreation. The open field invites frisbee games, picnics, or simply basking in the sun. With its idyllic setting, this park offers a refreshing retreat from the urban bustle, allowing visitors to unwind and appreciate the simplicity of nature.
Cranbrook Road
Stroll down the inviting Cranbrook Road in Ilford, situated at IG2 6EA, and immerse yourself in its unique urban charm. The street is lined with quaint shops and cosy cafes, creating a delightful atmosphere for exploration. Discover hidden gems as you walk along, showcasing the vibrant character of the neighbourhood. Cranbrook Road encapsulates the essence of a friendly, bustling urban community.
Seven Kings Park
Experience serenity at Seven Kings Park, located at 21 Epsom Rd, IG3 8QP, in Ilford. This lush green oasis offers a peaceful escape, inviting visitors for picnics, play, and connection with nature. With open spaces and well-maintained facilities, it's a popular choice for both recreation and community events. During the summer months, the park comes alive with family-friendly festivities, making it a cherished destination for all ages.
South Park
South Park in Ilford, found at IG1 1XU, beckons you to unwind and savour the beauty of the outdoors. It provides a refreshing escape from the urban hustle, offering an excellent setting for relaxation and open-air enjoyment. The park's scenic trails are perfect for leisurely bike rides, allowing visitors to immerse themselves in the natural surroundings. South Park is a breath of fresh air, inviting you to connect with nature amidst the city's rush.
Transport Links
Newbury Park's strategic location, with transport options within a few miles, ensures that you're well-connected to the rest of London and beyond, making it a fantastic place to call home or visit. Enjoy the convenience of easy travel while exploring the vibrant surroundings of this charming neighbourhood.
1. Crossrail – Elizabeth Line Station
Seven Kings station, part of the Crossrail – Elizabeth Line, offers seamless connectivity to major parts of London and beyond. It's conveniently located within a few miles of Newbury Park.
2. London Underground – Central Line
Newbury Park Newbury Park boasts its London Underground station on the Central Line, just a short distance away. The Central Line typically runs from approximately 5:30 AM to midnight.
3. Railway Stations
Besides the Central Line, Newbury Park is also served by railway stations within a few miles radius. These stations operate according to their respective railway schedules, providing additional flexibility for your travel needs.
4. Airport Access
If you're a frequent traveller, you'll appreciate that London City Airport is just a short 20-minute drive away from Newbury Park, ensuring quick and convenient access to your domestic and international flights.
5. Easy Access to Oxford Circus
Newbury Park's strategic location places the heart of London, Oxford Circus, just 11 miles southwest. Swiftly reach this vibrant hub via the Central Line, ensuring an exciting city adventure in under 30 minutes.
What are properties like?
Properties in Newbury Park present a diverse landscape of housing options. You'll find a mix of residential houses, apartments, and flats, catering to various lifestyles and budgets. Architectural styles range from traditional to modern, offering choices for those who appreciate both character and contemporary design.
When in the market for a new property, it's crucial to ensure that your choice aligns with your budget and suits your preferred style. Here, we provide an overview of the expected property prices in the Newbury Park property market. How much should you prepare to invest?
Newbury Park Sales market 
According to Rightmove properties in Newbury Park had an overall average price of £457,389 over the last year.
The majority of sales in Newbury Park during the last year were terraced properties, selling for an average price of £519,279. Flats sold for an average of £238,405, with semi-detached properties fetching £564,957.
Overall, sold prices in Newbury Park were 11% up on the 2020 peak of £411,652.
Newbury Park Rental market
According to the latest Rental stats in Rentberry, On average, 1-bed apartments for rent in/near Newbury Park, Ilford IG2, UK increased by 23.7% over August in 2023, reaching £1,355.
On average, the price of 2-bed apartments for rent in/near Newbury Park, Ilford IG2, UK in August 2023, stayed relatively flat at £1,749.
The average monthly rent for apartments in/near Newbury Park, Ilford IG2, UK decreased by 13.4% to £1,591.
If you're uncertain about buying, selling, or letting a property in Newbury Park, you know where to turn. Give our Newbury Park estate and letting agents a call for any advice and assistance in finding, selling, or letting your ideal property. Alternatively, pop us an email.
T: tel:0203 972 7341
E: info@oaklandestates.co.uk
Find out the value of your property in Newbury Park with a free valuation.